Did you know that globally around 811 million people are struggling to find food?
Conflict, the COVID-19 pandemic and climate change are contributing to a dramatic situation of food insecurity in countries already facing a hunger crisis. Women and girls are especially affected – 70% of the world's hungry are women and girls. They face new risks such as being removed from school, child, early and forced marriage or gender-based violence.
Education and protection is not a privilege it is a human right. Plan International is taking action to keep girls in school by rapidly scaling up programmes such as food distributions, school meals and child protection programmes. Will you stand with us for Girls' Rights?
Become a Girls' Rights Advocate
When you sign up to become a Girls' Rights Advocate, you'll get a badge to show that you stand with girls, in addition to more information about the challenges girls are facing and what you can do to help share the message.
What are Girls' Rights?
Girls and children don't just belong to their parents – they are individuals with their own rights. World leaders made this official with the UN Convention on the Rights of the Child. It is the most widely ratified human rights treaty in history, making a promise to protect and fulfill the rights of children. It includes, for example, the right to education and protection from violence such as the risks young women and girls face in Zambia. They have to skip school to find work to feed themselves and their families.
The Hungriest Places on Earth: Samira's Story
Samira lives in Zambia's Central Province. Aged 14 and in Grade 9, she wants to be a nurse. But these days, Samira struggles to stay awake in class. Since the food crisis began, Samira's daily food intake has halved. Now she survives on just one meal per day.
Read more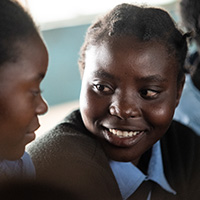 How does Plan International support children and young women?
Prioritising access to education is central to our work. During emergencies, Plan International strives to provide quality education opportunities that meet the needs of girls and boys affected by humanitarian crises. Next to conflict zones children in rural areas are also more likely to be out of school. There are many barriers to education, especially for girls. These include gender norms and harmful practices. We work with children and their communities to break down these barriers and challenge the social norms, and attitudes that impact girls' lives and prevent them from realising their rights.
"Because girls' education leads to girls' equality. "
Want To Take Action?
Working together, with girls taking the lead, we are creating real change. But we need your help. Will you join us and become a girls' rights advocate?
Help us spread the message – share your support and knowledge about girls' rights with your community. Educate your peers and learn more about important topics around girls' rights on a regular basis. Sign up and download your badge and infographics now.
Become a Girls' Rights Advocate