"I left many of my drawings at home when leaving Ukraine nearly a month ago. Now I do not know when I will return there and when I will see my father and grandmother who could not come with me and my mother," says 11-year-old Madonna during an art therapy workshop to help children cope with the anxiety of the Ukraine conflict.
During two-hour activity sessions, volunteer specialists including teachers, lawyers, psychologists, art therapists and childcare workers visit accommodation centres housing Ukrainian families in six districts in Moldova up to six times a week. The team is led by The Moldova Project, a non-profit organisation supporting vulnerable families in Moldova, who are working in partnership with Plan International.
About the Project
Today the 'Moldova4Ukraine' project team are visiting a refugee receiving centre in the country's capital, Chisinau. Most of the families living here are from Ukraine's Roma community, and many are from the Odessa region which is around 157km away and connected to the city by a direct rail link.
The Moldova4Ukraine project launched on 1 April 2022 and has so far reached 549 children and 119 adults. The multidisciplinary project aims to provide educational and art-therapy activities for at least 1000 refugee children as well as psychosocial support services for adults and children, parental education, legal and counselling services for refugee families.
The team carry out art and play therapy activities with the younger children, and conduct after-school educational activities with school-age children. Legal and social counselling sessions are available for parents, as well as counselling sessions for parents and children, and parental education sessions. 10-year-old Diane left Odessa with her mother, younger brother, and aunt. She has been at the refugee centre for over a month now and says she likes it there as she has made some new friends. "I enjoy the play activities that are being organised for the children. I like crafts and wish the volunteers could come more often. I miss my father and some of my friends from Ukraine."
Due to the large number of sites the team visit, we can only get to each centre once every two weeks. We hope to increase the number of educational institutions, public authorities and civil society we work with to develop a network of local specialists to support more refugee families in their communities as effectively as possible.
Overcoming Stress Through Art
Violeta, 10, left Ukraine with her mother and two siblings just two weeks before her town in the Odessa region, came under attack. She tells us that her mother is now scared to return as her aunt who stayed behind says that there is no electricity or water supply. "The activities conducted by volunteers make me happy and I always wait for them to return," Violeta tells us.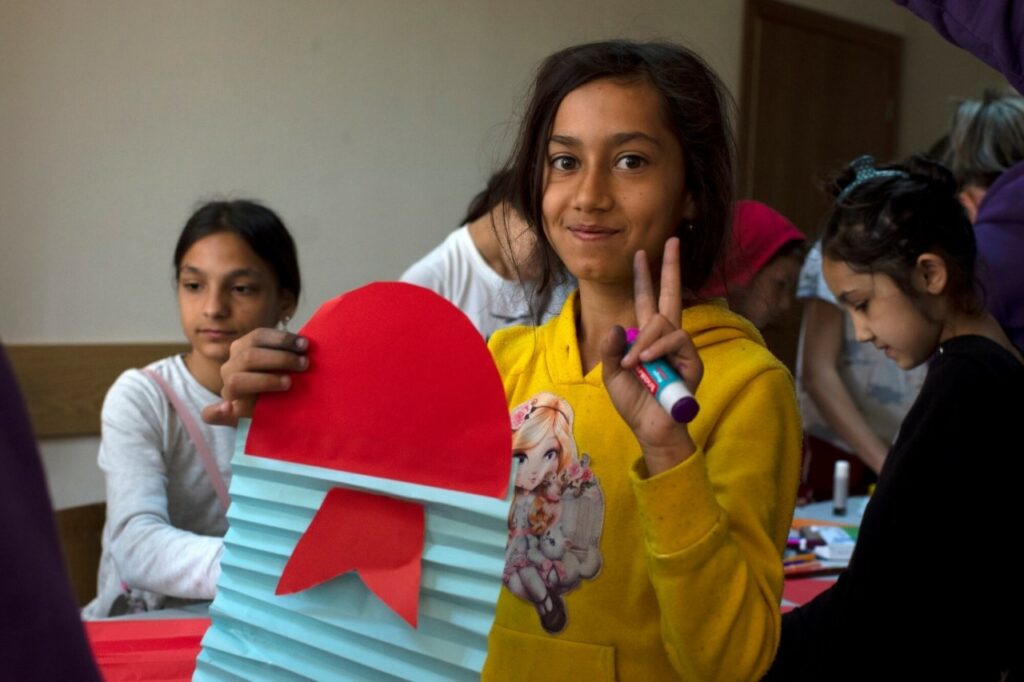 7-year-old Samira also came from Odessa with her mother, grandmother and elder sister. "I enjoy the activities organised by the volunteers, especially the crafts and puzzle games," she says. Samira's mother adds that she was due to start school this year but now does not know if this will be possible. While Samira's elder sister's education has already been disrupted, she is hopeful that she will be able restart school later this year and join the art lessons which she likes the most.
"The activities conducted by volunteers make me happy and I always wait for them to return"
Art therapy helps children cope with anxiety and overcome the stress of moving to a new country and the consequences of war. The art classes are particularly useful for children who have difficulties in expressing their emotions, experience and fears in words. Creating works of art help the children make sense of what is happening to their country.
The delight on Madonna's face is clear as she holds up the fish she has just made from coloured paper. "I like drawing," she says. "I was in year 5 at my school, so I like to join the in the crafts and games organised by the volunteers to keep myself active."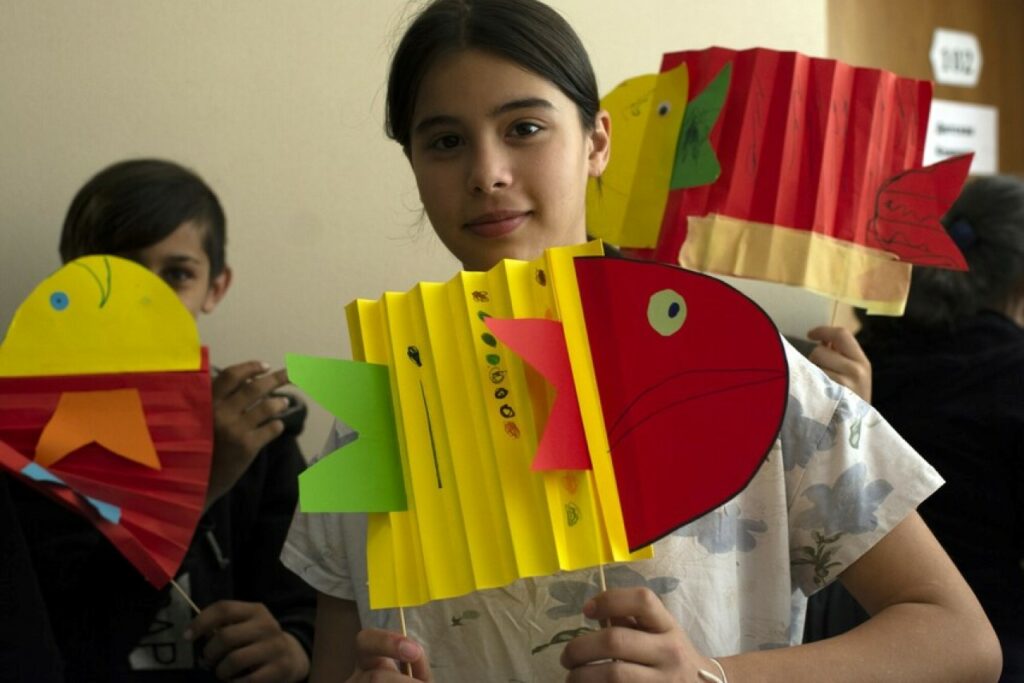 4-year-old Sabina laughs as she watches one of the team members playing a fun game with balloons. She joins in the game with her older brother. Her mother, Tamara, says that since they left their town in Odessa, Sabina does not seem to smile or be as happy as she used to be. "She does not sleep well either, so I make sure I brings her to these activities as this is where she looks more like herself again."
At the end of today's session in Chisinau, a large cake is brought into the room by the project team members to be shared with the group. 7-year-old Maria is very excited at the sight of the treat. "I hope my mum will buy me the same cake for my birthday," she says.
"I was going to have a double celebration on 31 May, which is my birthday and the end of the school year in Ukraine. I was also going to visit my grandmother by the Black Sea in June and swim with my family and my friends I made in my grandmother's village," Maria recalls. "I wish my friends were here to play with me now."