Mariam*, an 18-year-old mother of a two-year-old daughter, has returned to school and is determined to complete her secondary education.
"I was given in marriage at the age of 15 when I was in 5th grade. I didn't know my husband, no one asked my opinion," she shares.
"I fell behind in my studies. I had to repeat two classes because I had to help my parents in the field during the growing seasons. This was the case in both the 4th and 5th grade," says Mariam, who eventually dropped out of school.
*name has been changed to protect identity
Child marriage in Mali is an ongoing problem for girls
In the West African country of Mali, 16% of girls are married before they turn 15, and 54% before the age of 18.
One of the poorest countries in the world, poverty, gender inequality and the belief that girls are somehow inferior to boys are the key factors driving this trend.
Some parents marry off their daughters at a young age to give them what they perceive will be a better life, reducing their economic burden and allowing them to demand a higher bride price. This practice continues promoting the belief that girls are the property of their husbands.
However, early marriage has dire consequences for girls, including early pregnancy and dropping out of school, which severely impacts women's prospects of leading productive, fulfilling lives.
The Break Free! project
To help young people like Mariam access their sexual and reproductive health and rights (SRHR), Plan International implemented the Break Free! project, which is strengthening the SRHR of young people and promoting gender equality so that adolescents can make informed choices about their futures.
Break Free! works with adolescents in nine African countries so they can make their own free and informed choices about their sexual and reproductive health in order to combat teenage pregnancy and child, early and forced marriage, and in some countries female genital mutilation and cutting.
SRHR is critical to the healthy development of young people, but many teenagers must find their way with inaccurate information, poor access to health services, and harmful gender norms that prevent girls from having a say in the decisions that affect them.
"I can't think of any reason why my parents wanted to give me away in marriage. I think adults don't value girls' education."
By working with youth groups, community volunteers, teachers, women's groups and health workers, we run awareness raising campaigns and advocacy initiatives on child marriage, teenage pregnancies, female genital cutting and other harmful practices, reaching girls aged 10 to 19, as well as community leaders. So far, we have reached 12,225 girls in Mali.
We also lobby government officials and policy makers to raise awareness of girls' right to SRHR services, while encouraging them to take action to ensure that girls who have dropped out of school can return to education.
The importance of local community leaders
Determined to return to her studies, Mariam turned to her local councillor to ask for his help to go back to school. "I had to find a solution to continue my studies or at least pass my exams," explains Mariam.
Councillor Djinesira tells us that Mariam's situation was quite delicate, so he decided to bring up her case during an advocacy meeting organised by the Break Free! project.
"I was approached by Mariam, who is from my village, as her family wanted her to join her in-laws for their harvest. I and other influential people in the community, including the principle of the school and the staff of the learning centre, met with the family. Mariam's parents had to negotiate with her in-laws. From what we have learnt, the father-in-law does not look favourably on the education of girls, and that is another problem," says Councillor Djinèsira.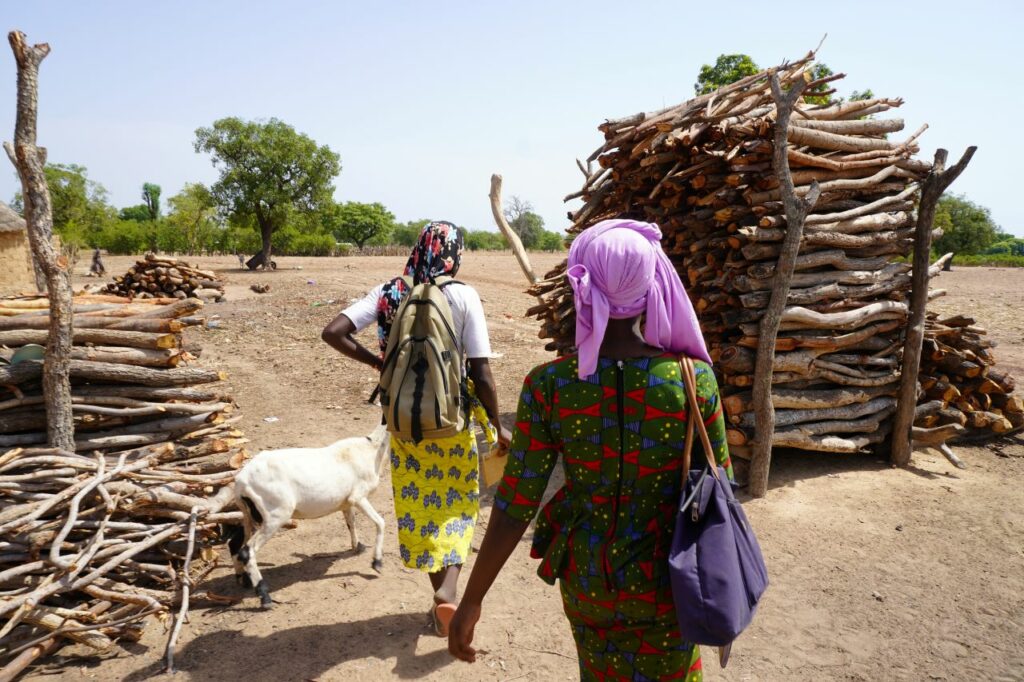 Thanks to their mediation, Mariam's family and in-laws finally agreed that she could return to school and she re-joined her class in 7th grade. The Principal of Mariam's school, Adama Diawara, personally called her husband to ask for his consent. "He has no problem with this. But as you can imagine, in our country it is the parents who decide."
"The issue of child marriage is very common in the community. When we manage to keep girls in school it is really a good thing. Personally, I even allow girls who have children to bring them with them so they can breastfeed. I have married girls who have been able to continue their education beyond the basic school diploma by joining vocational training courses. Mariam is a motivated person because she doesn't miss classes," says Mr Diawara.
Mariam now hopes to pass her Diploma of Fundamental exams and pursue her upper secondary education, despite the difficulties she faces being a young mother. She is also resolved in her commitment to tackle child, early and forced marriages and says she cannot understand why girls should be forced into marriage at such a young age.
"I can't think of any reason why my parents wanted to give me away in marriage. I think adults don't value girls' education. I sincerely wish to pass my exam and continue my studies. I want to join a health school even though I know that with my parents and especially my in-laws it won't be easy," Mariam concludes.