As Katy looks around the busy train station in Bucharest, Romania where she is waiting to board a train with her mother, she wonders what will happen to her and where she will be sleeping that night. At 16-years-old, Katy has left her country of Ukraine for the first time and does not know when she will ever return.
"I have come to Bucharest with my mum. It's just the two of us in our family but we came with my aunt and cousins. We've travelled for seven hours on the train to get here. The train was busy, we had seats but many people didn't. People were standing the whole time but at least they are safe," she tells us.
Just over a week after Russia launched its attack on Ukraine, more than 1.2 million people – a number that grows daily – have fled over the borders into neighbouring European countries. Most are woman, children and the elderly who have been forced to leave behind their husbands, fathers and sons.
UNHCR, the UN's refugee agency, is warning that the humanitarian crisis engulfing Ukrainians is just beginning. It estimates more than 4 million people will become refugees, while inside Ukraine, millions more will be displaced by Russian bombs and rockets.
"I've never left Ukraine before now but I feel okay. It feels very similar here in Romania. The help has been good – when we got off the train there were instantly people wanting to help, support organisations ready to help people." Katy has just a few bags with her – a suitcase, a soft bag and some tote bags and is waiting on her own while her mother queues in a long line to buy their train tickets. "We're going by train tonight to Budapest – we don't know anybody there. We hoped to go to America but the ticket was too expensive."
From Chernivtsi, a border town in Ukraine she explains why she and her mother left Ukraine. "My mama was frightened. There were sirens in the city and the surrounding areas and my mama thought it was best to leave. Places around the city are being attacked. Mama was afraid that the bombs would come so we decided to leave."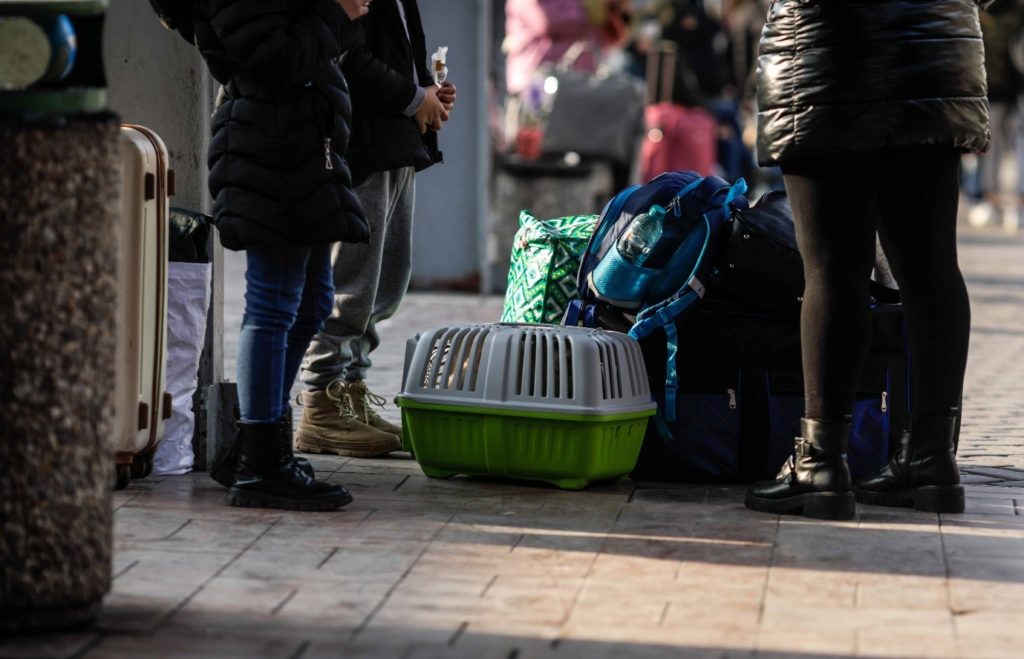 She tells us how sad she feels that people are leaving their pets behind, she thinks that people should try and take their animals with them or find someone to look after them. Katy left her cat with her boyfriend. "He's called Cat. He only responds to Cat. It's very sad, the cat doesn't know what's going on. The animals don't know what's happening."
Katy and her mother arrived in Romania two days ago and have been staying in an empty house that someone found for them. "We haven't brought many things, just two pairs of jeans and some tops. I bought some clothes when we arrived in Romania too."
When asked how she feels about the war in her country she says: "It's a bit scary, but I believe everything will be okay. I want to go back home again. I'm in class 11, but my school has been closed since the war started five days ago."
Katy tells us that is she is worried about her friends and boyfriend who are still in Ukraine and does not know when she will see them again. "My best friend has stayed in our town because she has a brother and a father and they're not allowed to leave, so they decided to all stay together. My boyfriend has also stayed at home. He and his father fix army vehicles."
For now, the morale among the young people in her town in Western Ukraine is relatively high. "The young people are all helping each other – if we know someone who needs food, water or something else, we get if for them. We are helping each other."
Katy says she loves drawing and wants to be an artist when she is older. Before the war she was learning tattoo artistry. "I'm always drawing. I would like to go to university and also do an apprenticeship to become a tattoo artist."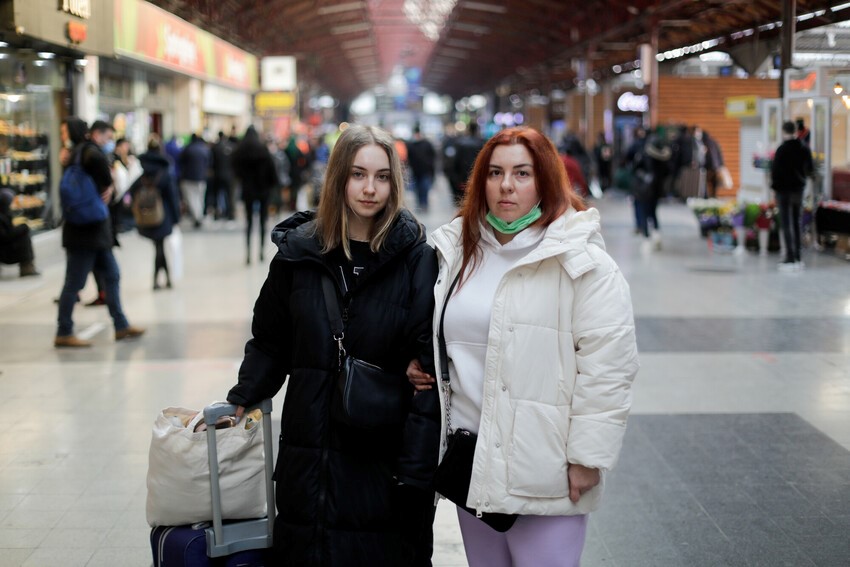 As her mother finally reaches the front of the queue and buys their tickets, the pair can set off on the next leg of their journey to the capital of Hungary. Her mother makes wedding dresses so she hopes that she will be able to find work as a seamstress. "It's a good profession but it's going to be hard to sell dresses in Budapest as my mama doesn't know English."
As we say our goodbyes, we ask Katy if there is anything she would like to tell people about what is happening in Ukraine. "I don't want to say a lot, I don't want people to panic. I don't want people to be aggressive to each other."
"It's strange that until now Ukraine was never famous for anything, but now everyone knows who we are," she concludes.