Do you remember what you did on 11th October? I do. It was a day I will remember for a long time.
My name is Jigyasa and on 11th October, the International Day of the Girl, I told my story of how growing up in New Delhi, India, I was sexually abused at the age of seven by a bus driver I trusted.
Now, I work with Plan International where we campaign for girls to have a world where they can live freely without fear of attack, where they are treated with dignity and respect, where they are equally seen, heard and valued.
"And I want to thank you for supporting Plan International, and for standing up for girls rights. "
On the International Day of the Girl, as part of the #GirlsTakeover, I had an opportunity to visit Áras an Uachtaráin where I met Ms Sabina Higgins and Mr Art O'Leary, the Secretary General. I will remember this day for a long time.
Talking to Art O'Leary was way more effortless than I thought having a conversation with the Secretary General to the President would be!
I sat with him as we talked about childhood, how to nurture girls' rights, and how to help girls grow into stronger and more confident people. He gave us some great advice.
He showed great interest in Plan International's work, and how our supporters make a difference. He knows how important it is to make a change for young women.
When I met Mrs Higgins she gave me a very warm hug, and her radiance filled the room. When I left she hugged me again and whispered, "Send my love to India".
I am so thankful to have had an opportunity to visit Áras an Uachtaráin and to have meaningful conversations around how to make Ireland and the world a better and safer place for women. And I am so thankful for Plan International supporters who make change possible.
Earlier that day, a piece I had written about my experience of my assault had appeared in The Irish Times. I talked about growing up in India, and how I was subjected to the reality of womanhood, even as a child.
As we were leaving, Art shook my hand, and asked me a question, "At what point in my life did I feel I was no longer a child, but an adult?". I told him, it was the very moment when I understood that it was my responsibility as a woman in this society to keep the harassment I experienced hidden from the world.
"As a woman, this was my burden. But thanks to Plan International, this has changed"
Sharing my experience is just a step, but we need a strong movement for change, to build momentum. It is a reminder for people to seek change in their communities, and push to make systems better for women and girls – especially for those who lack the power to fight alone.
It took me two long years to speak out about my past. And I have not felt any lighter than today. I had blamed myself for what I had gone through. I never knew it was a brave thing to do. In the past when I had tried to share my story I was told "my provocative attitude must have lead me into this". I completely believed harassment is and will remain a part of my life, because I was a girl. Before this confession I did not know if there existed a space where I could find a refuge.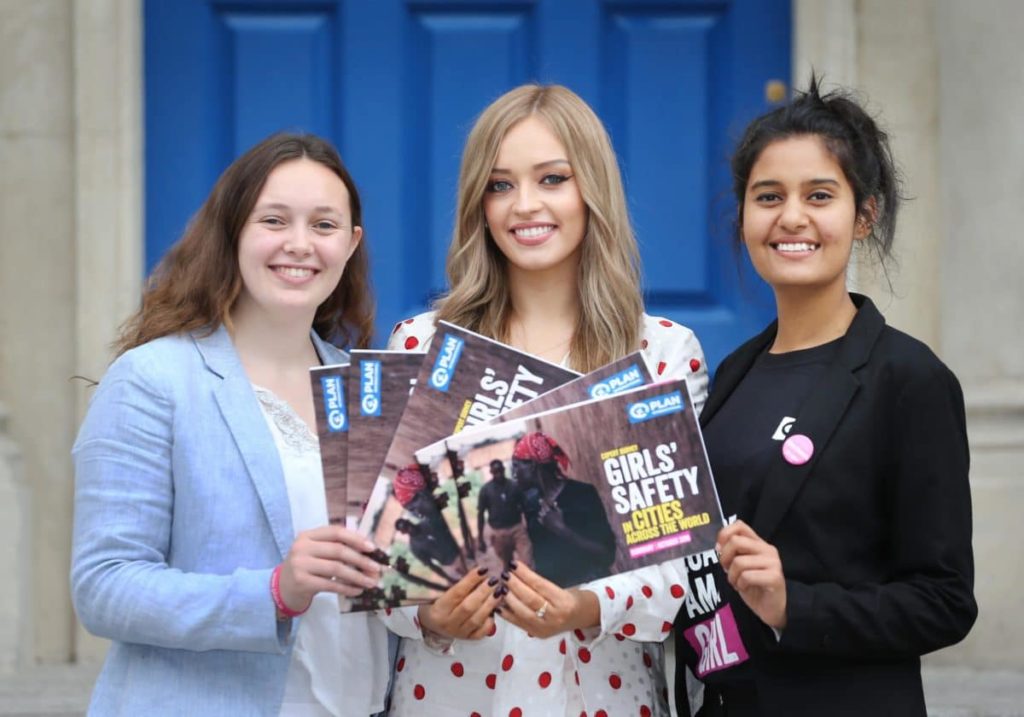 The launch of the Safer Cities report was on the 12th of October, and gave us an opportunity to talk in more detail about the need for change in Dublin. It was reassuring to see the panel talk about not only the issues related to women's safety in public places but also violence they experience elsewhere.
We know that when women are unsafe in the developing world, they have less access to healthcare and education; and are more likely to be forced into marriage while still children. Your support of Plan International is helping women and girls to be more safe.
"For me, today I feel less alone. I felt being heard amongst you all"
I wouldn't have been able to do this all alone. I had great support from my team at Plan International and encouragement by many stories from the #MeToo and #TimesUp movements. In being part of this campaign I found my allies, something we all need if we want to achieve gender equality.
I realised the importance of opening up. It brought the idea of sexual harassment and assault into the public consciousness. I understood if we talk, we bring awareness amongst people, and change can happen.
"Everyone needs to know what causes a women experience the world differently."
Thank you for supporting Plan International to create a world where women and girls can live freely without fear of attack, where they are treated with dignity and respect, where they are equally seen, heard and valued.